"I go to nature to be soothed and healed, and to have my senses put in order." ― John Burroughs
January 2019
In January 2019 I embarked on an unexpected adventure when, on a whim, I loaded my Jeep for a road trip up the coast of Cayuga Lake. I wanted to explore an array of favorite spots in search of wintering waterfowl. It wasn't until the tippy top, north of Cayuga where I found my first dabblers. One of my favorite, very out-of-the-way, locations is the Northern Montezuma Wildlife Management Area (NMWMA) Sandhill Crane Unit, east of Savannah, New York. The crane unit is located at the end of a road that leads you through farmlands, beyond a deceiving "dead-end" sign, then across railroad tracks and onto a pot-holed dirt and gravel road that passes through a woodland. If you and your vehicle survive the trip, eventually you will arrive at an opening where there's a massive wetland riddled with hundreds of muskrat mounds. At the very end of that road is a cul-de-sac where you can turn around. In that spot, springtime visitors will be treated to views of an osprey family nesting atop a utility pole.
On this early winter afternoon, I found a flock of tundra swans foraging amidst the muskrat mounds. Their distance too great for reasonable photos, I watched the antics for several minutes before continuing northward.
Heat waves are strong in this video but the behavior is so intriguing I wanted to share it with you. It's unclear what these two swans toward the front are bickering about but it's possibly posturing to defend their mounds or perhaps having a shout-off. I think it's interesting that, mid-way through, the further back swan looks at the front guy, almost as if for validation or to make sure he's not in this alone.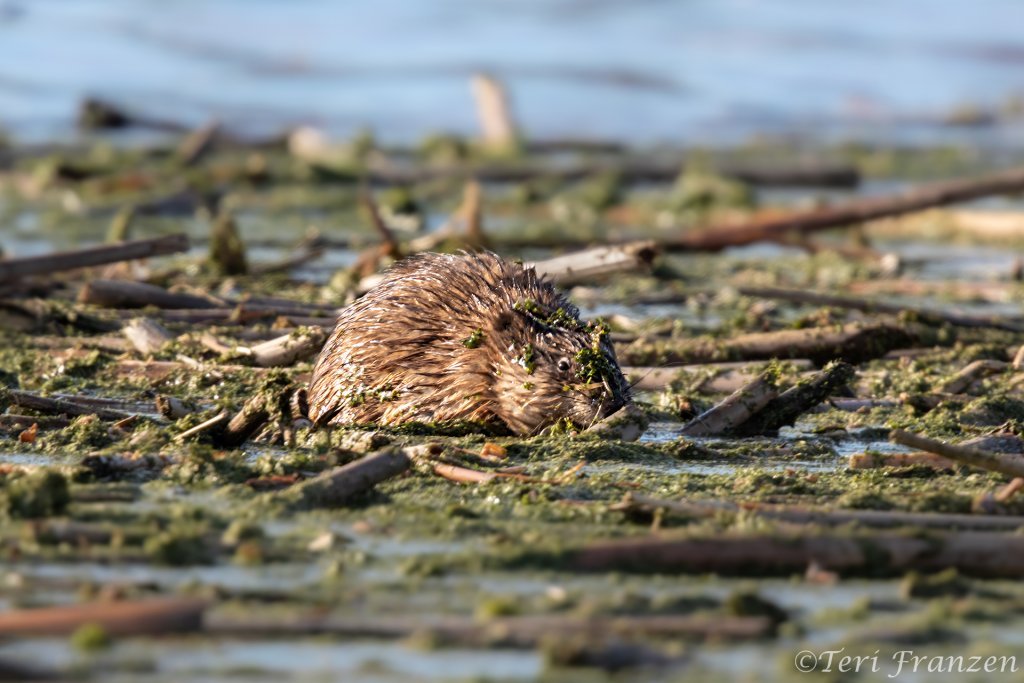 Muskrats abound in this Montezuma wetland. As with swans, these medium-sized rodents feed primarily on vegetable matter. Muskrats are primarily nocturnal and do not hibernate.
I left the wetland, deciding to continue northward. Having never before visited Lake Ontario, that would be my destination. Back in my Jeep I mapped the closest route to the lake and headed north. Chimney Bluffs State Park is situated along the south shore of Lake Ontario. The bluffs, formed from glacial silt deposited from the last ice age, continue to erode into dramatic shapes, forming their namesake chimney peaks. That's where I would go.
I arrived at the parking lot, grabbed my gear and walked the few hundred yards north, hoping to find a view of the water. I hadn't expected more than a large lake, similar to Cayuga. What I found instead took my breath away. The vast, open water and powerful waves crashing on the beach resembled an ocean coastline. The smallest in surface area of North America's Great Lakes, this body of fresh water is no slouch with its maximum depth of 804 feet and 393 cubic miles of volume. Facing north, with water churning, waves swelling and no visible land, I felt like I was at the edge of the earth.

Looking east you see the bluffs. I had only my wildlife lens and was unable to photograph the bluffs with a single photo. I turned my camera vertically and photographed multiple frames, then stitched them together to create this panoramic view of Chimney Bluffs.
With only my long lens and no wildlife in sight, rather than remaining at the lake, I headed back to Savannah for sunset with the swans and muskrats.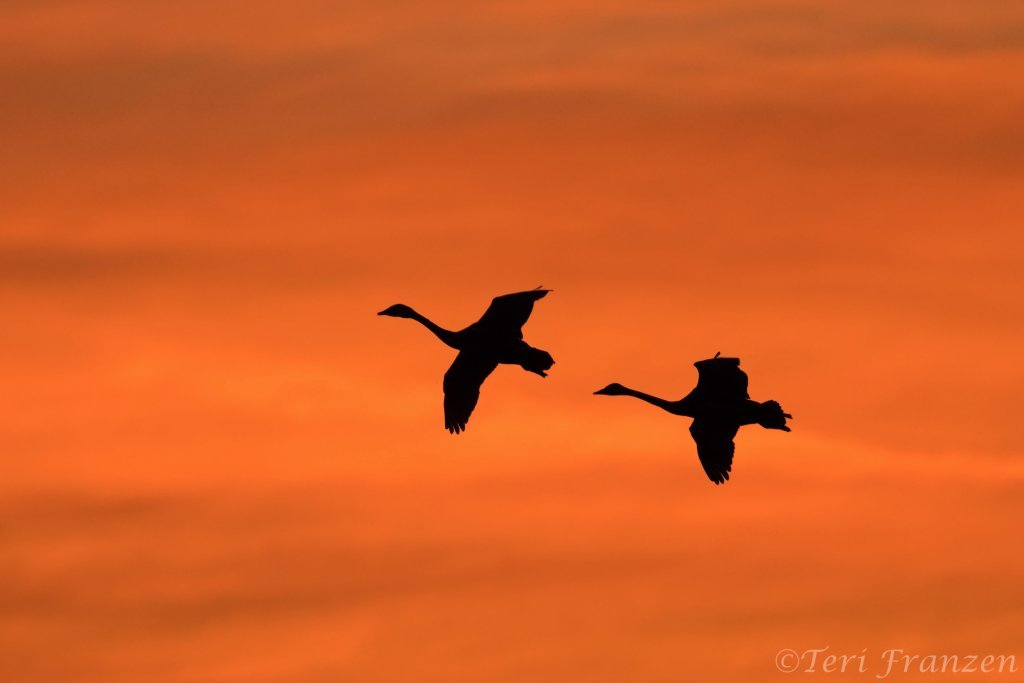 "Savannah Swanset" Wintering tundra swans take to the sky at sunset at the Montezuma sandhill crane unit near Savannah, NY.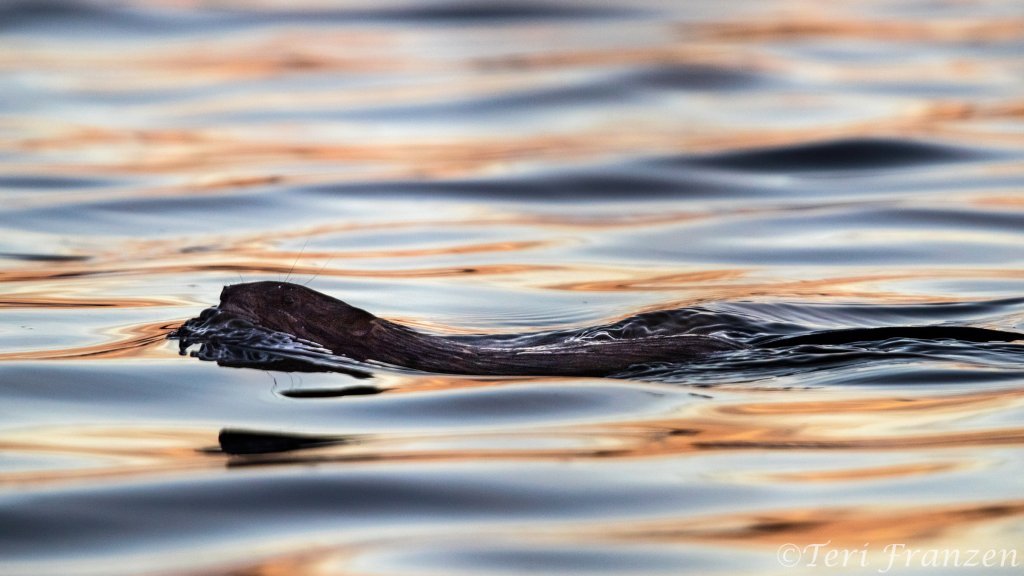 A muskrat swims through the reflections of sunset at the sandhill crane wetlands.
March 2019
After sunset, I made a mental plan to return again soon, armed with an array of lenses. Soon became a month, then two months. Finally, one Friday afternoon in March, with clear skies in the forecast I purged my afternoon schedule, packed my gear and headed north. First stop, Sodus Point where a large group of wintering sea ducks and other waterfowl had been reported. At arrival I found long-tailed ducks, common eiders and a stunning common goldeneye drake, his emerald iridescence dazzling in the afternoon sunlight.
It was finally time to return to Chimney Bluffs. I arrived to find a much different scene from my January trip. Winter had tightened its grip and the water was filled with snow-topped ice floes, churning about like boats in a stormy harbor. Amid all that tumult, I spied two long-tailed ducks making their way through the swells.
The beach was buried in yards of ice but I wanted a closer look. Using my tripod as a crutch, I carefully climbed through the broken ice planks to find the perfect spot. There I precariously balanced my tripod, laid low and watched, waiting for the visiting sea divers to swim closer. It was a surreal experience, a feeling as though I was high in the arctic, alone with these two beautiful wintering birds.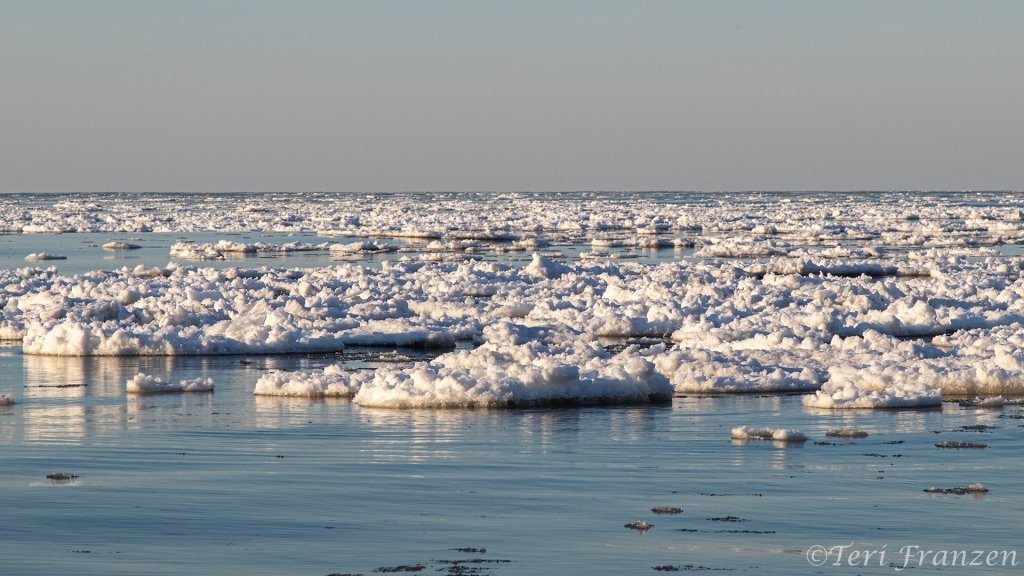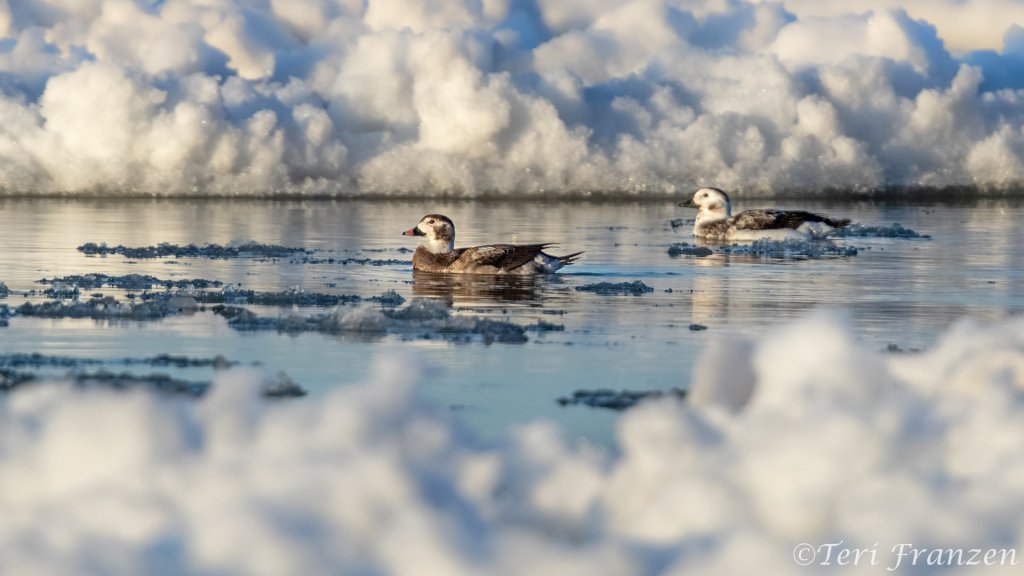 Most ducks species are extremely hearty and able to withstand ice and wintry cold. What drives them south is availability of a food when waterways freeze over. Long-tailed ducks are no exception, spending their breeding months high in the arctic tundra and coastal Greenland.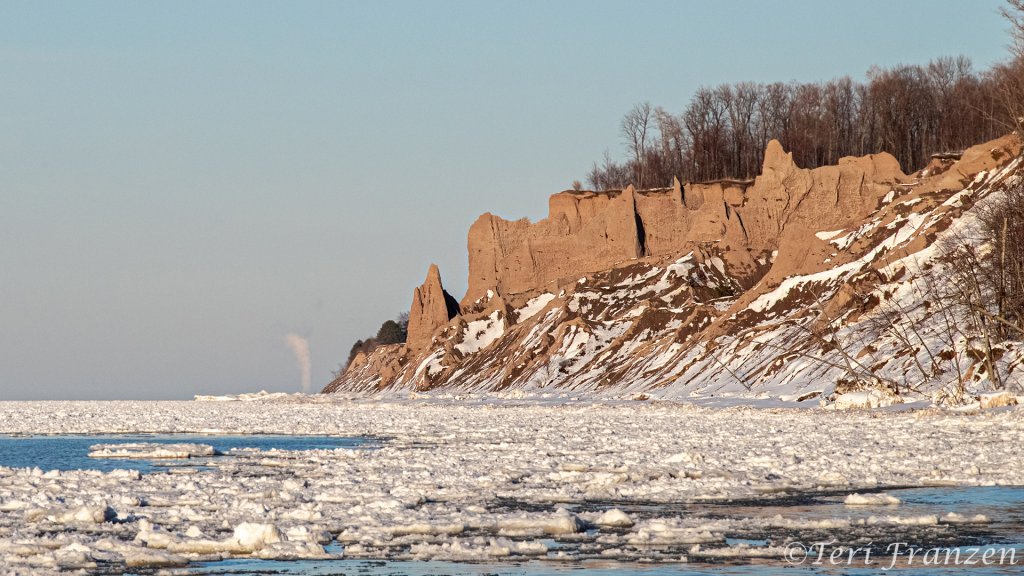 Chimney Bluffs peppered in snow on my return trip to Lake Ontario.
This video is a compilation of just a few moments of crashing waves, ice floes and wintering Long-tailed ducks from those two trips. I was aiming to project the feeling of peace that settled over me spending time on the untamed shores of this beach that feels very much like an ocean coastline.
If you're looking for adventure and intriguing scenes, drive north and don't stop until you hit the southern shore of Lake Ontario. I can't wait to go back!
A little cell phone footage. Just thought I'd say "hi" and show you my perch for that early March afternoon..
Image Gallery