I am very honored that my image, Katrina's Light, was selected among the top 250 highly commended photos in the 2018 Share the View International Photo Contest! This photo is special to me for a variety of reasons which makes this victory even more rewarding.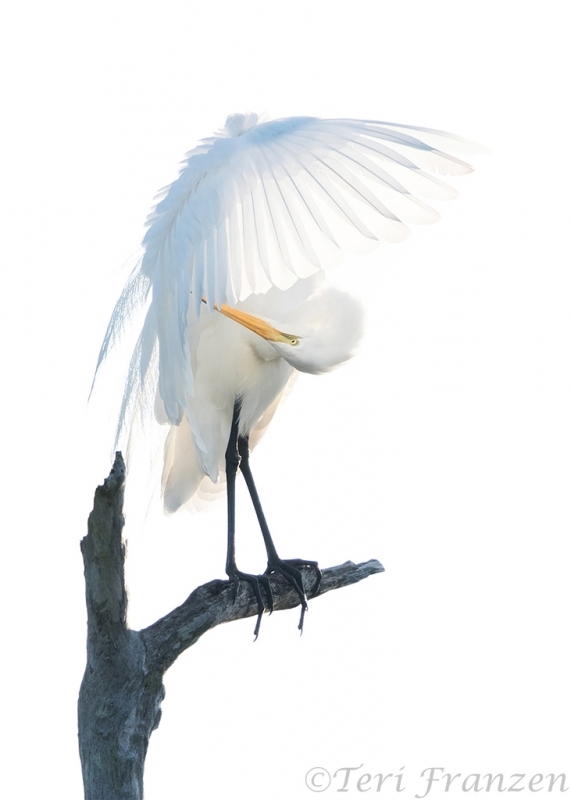 My Daughter-in-Law, Katrina, is a skilled portrait photographer who is also committed to using light and environment to enhance her images, rather than through digital post-processing methods. A couple of years ago, Katrina excitedly told me about an exposure technique she had discovered using backlighting to cause a high key glow on her subjects. With it she continues to produce many spectacular images.
One Tuesday morning in 2017 I was at Ding Darling NWR on Sanibel Island, Florida. I drove through the entire park and all was very quiet. Approaching the exit there is a beautiful alcove where I often find wading birds and Anhingas fishing in the water. Instead there was a lone Great Egret perched on a snag and backlit by the sun. I very nearly continued driving because egrets are so heavily photographed that it really takes a special scene to become impactful.
Then I remembered Katrina's technique. I positioned myself so that the sun would hit the bird at about a 45 degree angle from behind and noticed that when its wings were up the feathers glowed. I waited for the egret to preen, exposed as Katrina had explained and this backlit, uninteresting subject became magical. I am grateful to Katrina for helping me to shed light on this beautiful Egret.
As nature photographers, we tend to study images of landscapes and wild subjects. However, there is a lot to learn from studying all forms of art. Get out and explore. You never know where inspiration will form.
Gear/Image Exif:
Canon 1DX II
500mm lens with 1.4x TC (700mm)
Gitzo tripod with wimberley gimbal mount
Manual exposure program, f/5.6, 1/1250 sec at ISO-400
In addition to this image that was selected in the top 250, all five of my remaining entries advanced into the final round of judging. See the full series below.
See Katrina's work on her Facebook page