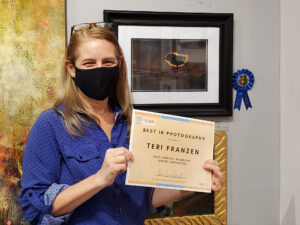 I am excited to announce that a print of my image, "First Sunset" has been selected as "Best in Photography" at the Broome County Arts Council (BCAC) annual juried, members only exhibit! I submitted two prints that will be on display at the Artisan Gallery throughout December. The exhibit features many exceptional works of art and is open to the public Thursday through Saturday, 11am to 3pm from December 3 – 26th.
Three Minute Mini-Talk
For the awards event, I was asked to provide a short talk introducing my work and wanted to share this with you:
Hi, I'm Teri Franzen and I am a wildlife conservation photographer. Through my art, I work to raise awareness of wild animals and their struggles. I do this through photography, video and writing featured in publications, social media venues, as a photography instructor and through events like this.
Story-Telling Images
An important part of my work is studying my wild subjects. Developing an understanding of their behaviors allows me to create images that tell stories rather than just a showing a posed "Bird on a Stick". Studying locations and lighting I work to create powerful, natural scenes in camera with limited post-processing.
I am very honored that this image was chosen because this was such a special moment. I call this "First Sunset" because it was photographed on the first day of this tiny Piping Plover's life. A small family of two chicks had hatched overnight and, thanks to dear friends, I had the incredible luck to see them on that very first day.
Cotton Ball with Legs
Like most shorebirds, piping plovers are fully precocial. From the moment they hatch, these scrappy birds begin hunting for tiny insects and invertebrates in the sand. Even at hours old, they'll chase receding waves looking for tasty treats churned up in the wake. At the approximate weight of two pennies at birth, it's incredible to watch these tiny feather balls running around. Imagine if a cotton ball had sprouted legs and began scooting across the dunes.
Nesting With the Decoys
Off the coast of Long Island, on barrier islands of Jones and Long Beach, large numbers of seabirds and shorebirds return from their winter homes to make their nests in small scrapes amid the sand dunes. If you have ever traveled to the seashore during the summer months, you know that the beach is a very popular tourist attraction. With coolers in tow, families haul umbrellas, blankets, beach balls and other toys out to the shore where they will camp out for the entire day. It's a heavily social scene with frisbees, castle building, kids running around, swimming and sun-bathing. Fishermen carry their poles out to spend the day fishing off the jetty.
Beach Precautions
My second image displayed here this month is a family of American Oystercatchers that also makes their summer homes on such a beach, Nickerson Beach in Lido Beach. A heavily populated area, Nickerson does it right. Large sections around dunes are roped off. At the start of nesting season, decoys are put in place to lure birds into the protected sections. Signs are displayed throughout the beach, warning caution and explaining the need for these protections. For dog lovers, Nickerson provides a dog run, removed from the sensitive areas.
Share the Shore
Even with all of the precautions, this tiny plover doesn't understand boundaries. It instinctively knows that the best treats can be found in the waves. If you ever do find yourself on the coastal shore of Long Island during the summer months, or anywhere along the Atlantic coast, keep an eye out for these tiny, amazing creatures. Remember to share the shore. Provide space for them to run safely between sea and dunes. Take out what you bring in. And enjoy your front row seats to the spectacular nature show.
Thank you so much!!
Wishing all of you a safe and wonderful holiday season!
Acknowledgements and Information
Thank you to BCAC for this honor and for your unfailing support of the local art community.
Thank you to my dear friends, Robyn Elman and Paul Steil, Instagram Acouplewithoutborders, for introducing me to the amazing coastal shores of New York's barrier islands. And especially for sharing with me this special piping plover family.
In addition to the BCAC award, "First Sunset" has also been honored as the Second Place winner of the North American Nature Photography Association (NANPA), 2019 Nature Day photo contest. It was also awarded grand prize in the "Photographer's Best" print category at the 2020 Two Rivers Photography Club end of year ceremony. The second featured image, "Me! No Me!" was selected among the top 250 of the 2019 "Share the View" international nature photography contest and received a merit award in the 39th Glennie Nature Salon, national photo competition.
Visual Stories – Speaking Engagements
Through images and video, I enjoy telling the story about these wonderful inhabitants of the coastline. Please contact me for public speaking engagements or other educational opportunities.
A Day at the Beach
Additional Images from Coastal New York